不知不觉TESOL总部陪伴数万学员顺利获取TESOL证书,同时也赢得了络绎不绝的学员对我们的好评,下面分享部分学员感悟: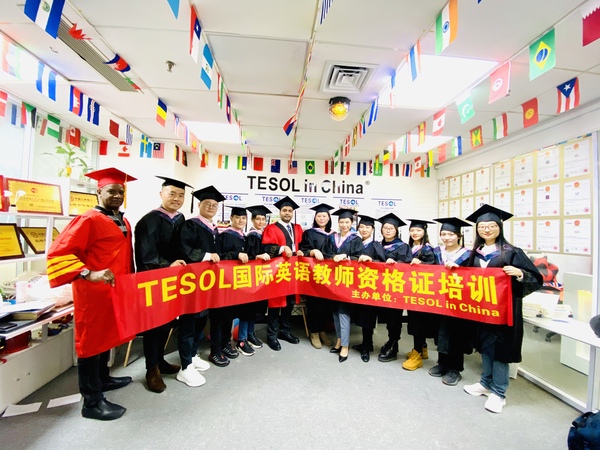 Bella:This course teach some more materials related to homework and theories. Excellent teaching methods .Thank for instructor. I look forward to training Business here.
Anita:
The greatest strengths of the course is very helpful in the real class. It contains a lot of activities we can used for students.
Edward:
The greatest strengths of the course are lots of fresh ideas on teaching,many practical teaching methods combine practical with theories
Angle:
I've learned a lot from this TESOL program and it's been useful for me. I've found it's so interesting as a good English teacher. And all teacher and staffs here is super nice.I've stayed a warm filled week。
Teacher is very kind and nice, and is full of knowledge. I'm lack of experience in teaching. I have to practise more and more. But the class is very interesting and also different to learn.
Zen:
I had a great time during the study time. Only five days I learned so much. Alex is a very good teacher, he could easier to find a way to help our to learn faster.
Allen:

Amazing lesson for anyone that want to be a TESOL teacher or just interested in teaching knowledge and skills. Also you can make good friends here. It's a vocation more than lesson. You will have a precious memory here definitely.
Helen:
Having a completely new view about teaching English, every though i have teached English for six years. Thank you for Alex. And nice to meet everyone here.
Cindy:
It is an adventure to teach in another country and culture. We have met many people and made some wonderful friends. We have learned about China in a way that you couldn't without actually living there. We have seen a lot of the country and we have been able to meet and teach many beautiful children. And there are jobs there with adequate pay, which is also helpful". I had a great time with TESOL in China.
了解更多课程信息和最新开课信息
美国 TESOL 中国总部
AMERICAN TESOL CHINA CENTER
TESOL总部电话:010-83197099
TESOL客服微信:13011180737

TESOL总部官网: www. TESOLGOV.com
TEFL总部官网:www.TEFLinChina.com
地址:中国·北京 西城区宣武门海格国际大厦B座605-606
ADDRESS: ROOM B605-606,Hai Ge GUO Ji Da Sha, Xuan Wu Men Wai Street., Beijing .CHINA
企业邮箱:admin@TESOLinchina.com
学员服务邮箱:amy@tesolinchina.com